Wide range of Scientia tutoring services
Our aim with Scientia Tutoring Services is to help students benefit as much as possible from their time in school. Whether it is for remedial work on a subject or for pushing themselves in an area they love, we work with individual students or in small groups to help improve academic skills.
For final year students, we can help them prepare for internal assessments and school exams (IB, A Levels, APs, Maturité, etc.) both in English and French. We also have a long experience in coaching for standardized tests such as the SAT and ACT for entrance to American universities. In our experience, regular training beats last minute efforts, so it is important for parents to identify their child's tutoring needs early.
Planning a route to university
For students planning to attend university, Scientia offers academic advising to help them plan a strong application, both academically and for extra-curricular activities. This is particularly important for US and UK admissions. Using their experience teaching at universities, Scientia advisors also advise students applying to graduate programs across the world.
Where needed, they can provide training for university interviews and admissions tests (such as those used by Oxford and Cambridge).  Given the time it can take to build a student's credentials, Scientia advises parents to help their children devise a plan as soon as they can.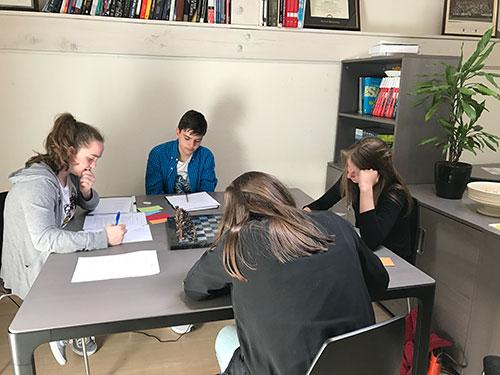 Customised programs
We believe strongly that academic skills need to be complemented with soft skills, skills that help students showcase what they can do to the world. For this reason, Scientia offers tailored programs to help students develop communication abilities such as academic writing and presentation techniques. We run writing workshop for teens, aimed at strengthening their writing skills and exploring different styles. We also develop customized courses in response to demand, the latest being for a parent of one student who asked us to create a course on the physics of sound for musicians.
Why choose Scientia Tutoring Services?
The approach we have developed comes from a varied and wide experience at the school, university, and professional level. In our tutors, we prioritize a natural ability to tutor and real experience with a subject, either in a professional or research capacity. This helps us make school subjects more dynamic for our students. For example, we don't simply teach economic theory, but we share our experiences of how economics is used in the financial world or by governments and international institutions."
Our senior tutors have a wealth of teaching experience and continuously provide guidance and training to tutors to share their knowhow. Building on our time in research, we are constantly developing proprietary techniques to target specific learning objectives. We encourage our instructors to assess the learning processes of each of their students including the teaching culture used at their schools. For example, do schools focus on theory or practice, breadth, or depth of knowledge? Based on this assessment, we can tailor lessons and teaching techniques to their goals, abilities, and learning styles.
Who needs Scientia?
Scientia will teach anyone who wants to learn, including students, parents and occasionally professionals. Our clients typically fall into three student categories:
Between 14-18 old, preparing for university and working on subject content and university applications.
Between 18-22, at university and either reviewing fundamentals of their subject or working on improving communication skills, frequently for academic essay writing or thesis preparation (masters and/or doctorate).
23 and above, applying or completing a graduate degree such a masters and/or doctorate, frequently for specialist support in structuring dissertations, in-depth editing and copy-editing.
Scientia Tutoring Services offer teaching in English, French, and Spanish, and works with students from both international and local schools. Contact us here.